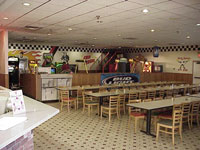 Hours
Sun. - Thurs.
11:00 a.m. - 10:00 p.m

Fri. - Sat.
11:00 a.m. - 10:30 p.m.
Meal Served
Lunch, Dinner
Types of Services
Dine-In, Take-Out, Catering,
dine-in parties, Delivery
Parking
Parking on Site
Reservations
Recommended for large parties
Dress Code
Casual, No Dress Code
Since 1969, we at "The Orginal Graziano's"
have believed in using the highest
quality products to produce our food,
offering a pleasant and clean atmosphere,
and treating our customers as if they
are a guest in our house
We make it, We bake it, We do it all...
We provide a large variety of food from pizza and pasta to
sandwiches and broasted chicken. Some of our favorites include
our Deli Pizza Sandwich (Italian meats on pizza bread) and
our incredible lasagna
Our large restaurant includes a party room for birthday parties,
sports teams celebrations, and any other get together.
We have a video arcade with a prize stand for children, and
a big Screen TV for sports fans to enjoy their favorite game
while dining on our great cuisine.